Our TactPlus Printer was built to improve quality of life for the visually impaired.
As Braille Printer, TactPlus improves the quality of life for visually impaired. TactPlus was designed to be a mobile printing solution, it's small, lightweight, and can be easily taken on the go. Print braille anytime, any place.
As a graphic tactile printer, TactPlus helps volunteer and educational institutions. 3D imaging assists the visually impaired learn through touch.
Braille printing and 3D imaging in one printer

Mobile printing. Our printer is small and weighs about 5kg.

Print silently. Only a feeding sound of less than 50 decibels can be heard while printing.

Our printer is user friendly. We've included sound guidance to assist visually impaired.

Low Price. Our printer is more cost effective and affordable than other braille printers due to our revolutionary printing process.

USB, Wireless, and LAN Interface.
Revolutionary Design
Thermal printing is the technology that drives our groundbreaking printer.
TactPlus uses Thermal Technology and Capsule Paper.
By heating the paper, braille and graphics can be made with only 1 step.
More Than a Braille Printer
Learn and teach with touch utilizing our 3D image printing.
Take a look at some samples of 3D images printed by TactPlus.
Examples of Practical Use
Visually Impaired(For visually impaired who use computers)

Picture book (For educating visually impaired children) 

Photo book(For blind people tactile can describe the picture with tactile)

TEXT book (Text book using graphic, mark symbol graph etc.) 

On demand Printing for Guidance at Bank, Hospital, Pharmacy, Mall etc.

On demand printing for Info, Guide, Map 

Other(Wedding, design, DM, catalog, brochure etc.)
Free Maintenance
We stand behind our product. Never pay for maintenance should you encounter an issue.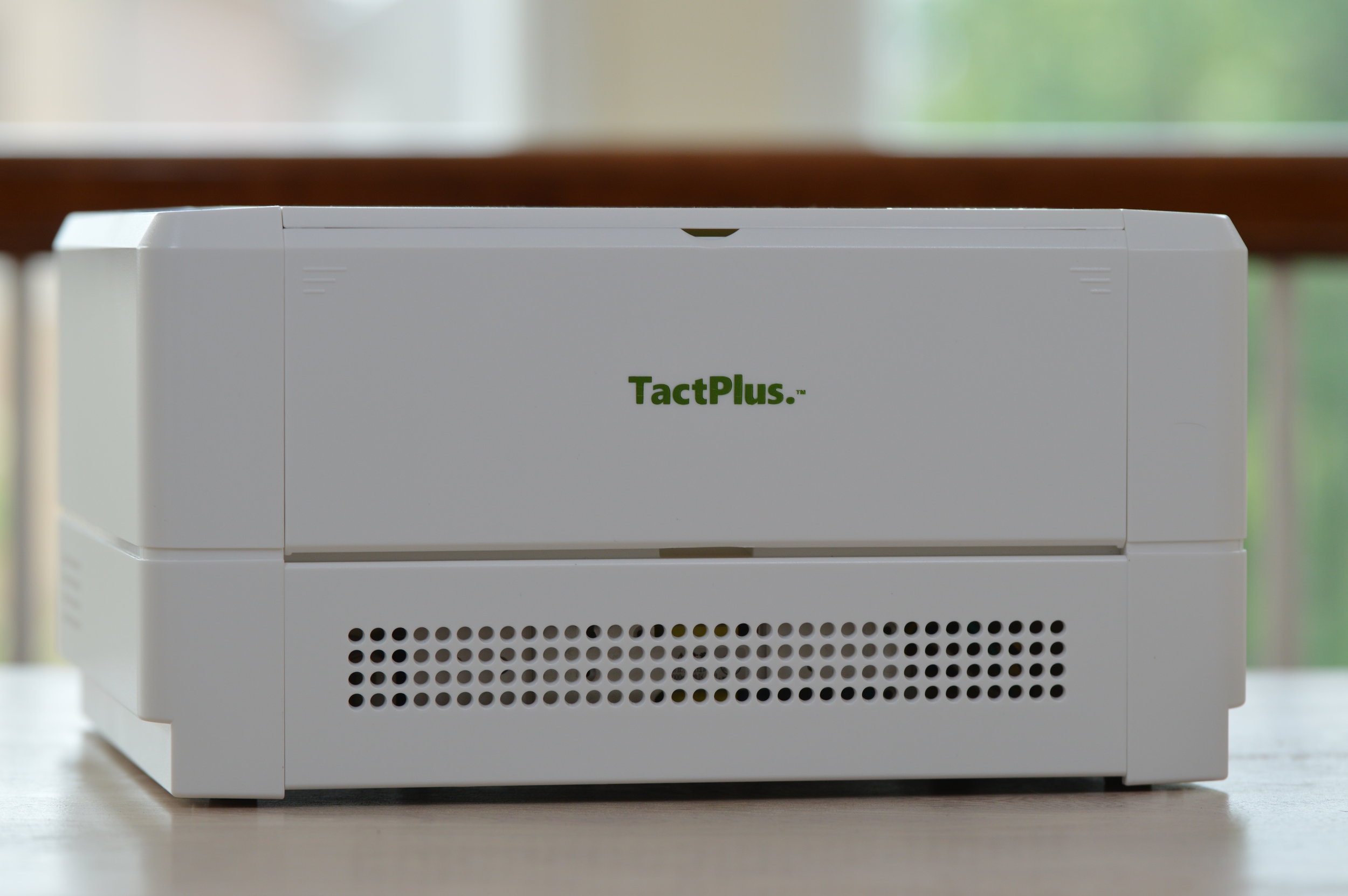 Printer Specifications
Printing Method Thermal Printing with 300 dpi

Print Speed 60 – 110 sec / 8.27" x 11.69"(A4) size (in printing Braille 22 lines)

Supply & Exit Tray Max. 20 sheets

Interface USB2.0 / Wi-Fi / 100 Base-T/TX

Electric Specifications /

Consumption in Printing AC100-240V 50/60 Hz / 220W

Supporting OS Windows 7/8.1/10 (32/64 bit)

Supported Driver Dedicated Driver

Voice Guidance Supporting

Size (W x D x H : mm) (unused) 316x293x187, (used) 316x577x259

Weight 5kg